Sexual Identity Issues: Towards Graciousness and Inclusion (Ephesians 2:11-3:7)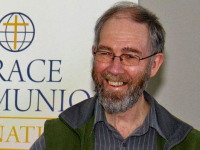 Phillip Hopwood, August 23, 2015
Part of the
Social Issues
series, preached at a
Sunday Morning
service
One of the most intrinsic and core aspects of our "being" is our identity, one aspect that plays a major part is our sexuality. Today Christians are divided on our attitude towards those with a different sexual preference.
How do we view and treat LGBTIQ+ people? This is a highly controversial topic, and one in which this sermon seeks to seek a Christlike approach, and to see all people as God's creation, beloved by him in Christ. It emphasises our need to focus on our common identity in Christ rather than in sexuality, and not to divide over our views on sexuality.
Are we following Jesus, or following religious people down through the millennia who ungraciously condemn and separate those who don't "measure up" to their standards?
Are we part of the kingdom that seeks to include and bring wholeness, healing and reconciliation, or the anti-kingdom that separates, hurts and condemns?
About Phillip Hopwood:
Pastor, GCI Tasmania